Future Audio Workshop has announced the release of version 2.1 of Circle, a software synthesizer instrument for Windows and Mac.
The update provides significant stability and processor usage improvements, updated graphics and a completely overhauled preset library.
The result of a partnership between programmers, mathematicians, audio professionals and visual designers, Circle made waves upon its initial launch in 2008 for its ground-breaking user interface, which foregoes the industry's typical skeuomorphic approach to digital design. Instead, Circle's intuitive interface reimagines how modular synthesis can look and work in the digital world with a very visual approach to sound design.

To open up a broader discussion about Circle and connect users worldwide, FAW have also launched the Circle User Community. The FAW team will be keenly active on the message board, so this is an ideal place to discuss feature requests, feedback, and to share your work.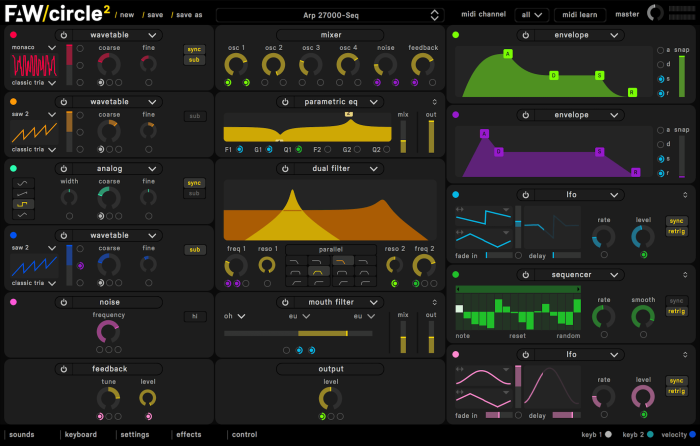 Changes in Circle v2.1
Fixed automation issues on both Mac and PC.
Replaced all pop-up windows with new designs.
Re-design of the activation flows.
Fixed random crash in arpeggiator.
Fixed random crash when assigning midi controllers to parameters.
Fixed processor spikes when automating parameters.
Revised the included factory preset bank.
Added new presets to factory bank.
Update parameter system so presets load faster.
Reduced GUI load times.
Fixed Issue with Circle not seeing install folder, presets etc on Mac OS High Sierra.
Fixed reverb initialization occasionally causing silent preset.
Fixed crash when removing Circle from a track in Ableton Live 9.0 and 10.0.
Fixed issue with Step Sequencer going out of sync with the host.
Updated internal framework to JUCE 5.1.
Added vector optimisations to the filter and cable connections.
Fixed issue with sample rate not being set correctly in standalone.
Fixed issue with BPM not being set correctly in standalone.
Fixed issue with setup Midi controllers not being saved in standalone.
Fixed issue with the velocity of the onscreen keyboard always being full velocity.
Fixed issue with automation freezing the host if active when you change a preset.
Fixed a crash when midi learn assigning the same parameter multiple times.
Fixed issue with installer not overwriting old plug-ins and standalone on OSX.
Circle2 (VST/AU/AAX) is available from Plugin Boutique for 99 EUR.
More information: Plugin Boutique / Future Audio Workshop Circle2