u-he has announced the release of an update to the MFM2 versatile delay effect plugin.
Version 2.5 of More Feedback Machine 2 features a new user interface with a more practical design, support for the CLAP plugin format, and more.
MFM2 is our over-the-top digital delay plug-in. You can create anything from subtle textured echos to huge spacey reverbs, from wild tonal steps on a pad to rhythmic deconstruction of a drum track.

As a regular delay MFM2 already offers as much control and inspiration as possible, while the advanced features in version 2.5 open up wider horizons. More feedback, more control, more inspiration!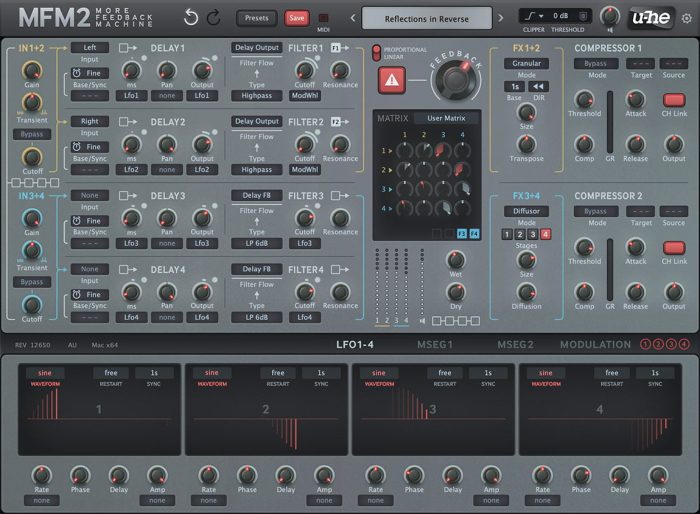 Changes in MFM 2.5
Redesigned UI focusing on ease of use.
Native support for Apple Silicon (M1) CPU, macOS Monterey.
CLAP support, improved VST3 support.
Input section with transient analysis and balance, lowpass or highpass filter.
'Granular': pitch shifter, syncable to song tempo.
'Diffusor': from audio 'smear' to complex reverbs.
Output guard / soft clipper.
Preferences and MIDI learn pages.
Comprehensive preset browser with tagging and search functions.
MFM 2.5 for Windows, Mac and Linux is a free upgrade for existing users and is available to purchase for $99 USD for new customers at Plugin Boutique and from the u-he store.
Kinesis for Hive 2
Additionally, a new soundset for the Hive 2 software synthesizer has been released. Kinesis by Bryan Lake aka Sound Author includes 128 patches with a focus on timbral movement. Expect organic grooves, snappy generative arpeggios, evolving sequences and lush ambient pads.
The idea for Kinesis was to create sounds that rhythmically 'dance around each other' when layered, avoiding repetition. Bryan says:
"I often try to create patches that don't sound overtly electronic, and the latest features in Hive certainly helped! The extra filter modes are great for phaser effects and bizarre resonances, and the Shape Sequencer's new 'Halt' option turns it into a kind of modulation mapper like in u-he's other synths. Hive has grown considerably, and is more than capable of exploring new timbral landscapes."
The Kinesis soundset for Hive 2.2.1 or higher is priced 30 EUR at the u-he store.
More information: u-he