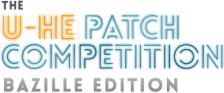 u-he has launched the third Bazille Patch Competition, a sound design contest in which you have a chance to win u-he products and store vouchers.
As Bazille is still free (public beta serial number), we're starting another SOUND DESIGN contest! Another chance to win u-he products

This time around there are 4 categories:

1. The Modular Lead
Synth sounds that beg to be played on a Keytar, patches that invite virtuosity yet still bear the Bazille 'stamp'.

2. Drums & Percussion
One-shot drum and percussion sounds. Realistic or otherwise. No loops, but expressive percussion sounds, kits, bongos or even church bells.

3. Mod Seq Abuse
The technical innovation category: the Modulation Sequencer. Can it make a sound on its own? How far can you go beyond one-finger-melodies?

4. Monster From The Deep, episode 3
This is the freestyle category. RELEASE THE BEAST.
The deadline for submitting patches is July 17th, 2014, 12.59 pm CET.
More information: u-he / Bazille Patch Competition #3