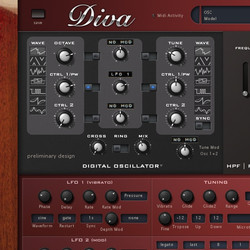 u-he has released public beta version 1.3.0b4 (revision 2033) of the Diva virtual analog synthesizer instrument for Windows and Mac.
Here's a new public beta of Diva 1.3:

Diva rev 2033 Win
Diva rev 2033 Mac

adds a "high quality" switch to the Digital Oscillator – for nearly anti-aliased operation, indepenedent of global quality modes
adds a BP mode for the middle position of Uhbie Shape parameter
fixes an issue with wrongly saved drop down lists in prestes/projects (e.g. tuning, lfo rates)
fixes a possible crash bug in VST3 layer
fixes a UI rendering error on Windows
still features a preliminary UI design
Visit the u-he forum for more information on the new public beta.