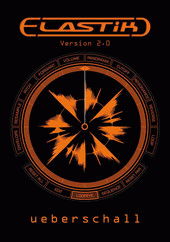 Ueberschall has released version 2.04 of Elastik, the virtual instrument powering Ueberschall sample libraries.
This update brings some minor bugfixes and one new feature to the Elastik engine.
Changes in Elastik v2.04
Choice of the algorithm – When it comes to pitch shifting and time stretching each audio material wants to be treated differently, whether the focus lays on transients or on your CPU usage. That is why we implented three different algorithms that allow you to choose between the following:

Pro: Gets the best result out of the material.
Efficient: Walks the path between a good result and a CPU friendly solution.
Transient: Lays the focus on peaks and is therefore great for percussive material.

Fixed: AU validation crashes in Logic. If you are using Mac OS 10.4 and you could not validate Elastik 2 with version 2.0.3 please download this bugfix.
Fixed: No RTAS plugin in Pro Tools 7. Elastik version 2.0.3. could not be found in PT7.
Fixed: Soundbanks could not be loaded. In case your username included special items (for example umlauts like ä, ö or ü), you were not able to load a soundbank into Elastik.
The update is now available to download at no cost.
More information: Ueberschall / Elastik