Unfiltered Audio has released Dent 2 and Indent 2, two distortion effect plugins for Windows and Mac.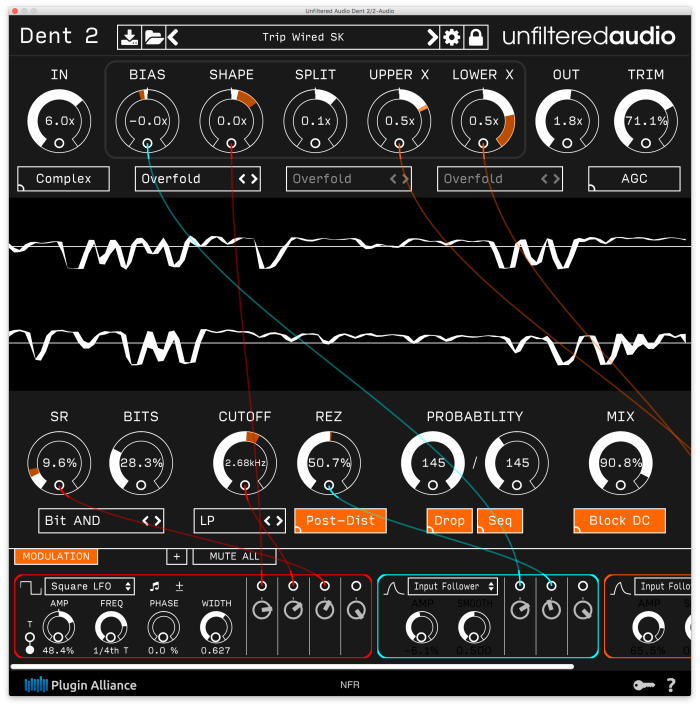 Two cutting edge saturators from Unfiltered Audio just got a whole rack of new features that make them more powerful than ever before.

Dent 2 is a waveshaping toolkit that allows you to squeeze, split and obliterate sounds at the wavecycle level, while Indent 2 is its slimmed-down counterpart that can saturate and soothe to your ear's content.

Both feature Unfiltered Audio's unique modulation system that allows you to intuitively control parameters and other modulators in real-time, producing anything from subtle motion to total sonic mayhem.
Dent 2 features
Presets from The Crystal Method, Mirrorball Entertainment, Julius Dobos, and Toby Pitman (Air Studios).
Six distinctive bitcrushing algorithms (including a circuit-bent toy simulation!).
Randomize Preset feature—surprise and amaze yourself with sonic madness!.
Ten clippers: Hard/Soft Clip, Wavefold, Overfold, Harsh Fold, Distortion, Tube, Tape, Gloubi, & Cubic.
Complex Mode gives users the option to apply a different saturation algorithm to each of the three clipping stages.
Indent 2 features
Great for familiar guitar pedal-style effects and unusual sounds that surprise and provoke.
Simple controls and intuitive visual interface help you saturate or mutilate tracks quickly and easily.
Choose two of ten clipping algorithms — Hard Clip, Soft Clip, Wavefold, Overfold, Harsh Fold, Distortion, Tube, Tape, Gloubi, and Cubic —independently for Indent's input and output stages.
Unfiltered Audio's flagship modulation system provides eight freely assignable and fully automatable modulators (sine LFO, sawtooth/triangle LFO, square-wave LFO, input follower, sample-and-hold noise, macro control, step sequencer, and ROLI Lightpad), with drag-and-drop virtual patching to every control knob.
Analog-style multi-mode filter with continuously variable resonance control.
Dent 2 and Indent 2 are available for Windows and Mac (VST/AU/AAX), priced at $99 USD and $49 USD, repsectively. With the purchase of Dent 2, you get a full license for Indent 2 for free.
Owners of Dent can upgrade to Dent 2 for free at any time, while a time-limited promo offer allows owners of Indent to upgrade to Dent 2 for $29 USD until September 30th, 2017.
More information: Unfiltered Audio