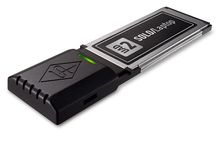 Universal Audio has announced the UAD-2 SOLO/Laptop, a compact ExpressCard version of the UAD-2 SOLO DSP Accelerator card.
Now ExpressCard laptop users can access the entire library of world-class UAD powered plug-ins on their laptops, with the UAD-2 SOLO/Laptop DSP Card. Universal Audio is showing functional previews of the SOLO/Laptop at booth # 7003 at the NAMM Show, while the manufacturing department ramps up to full production in March. The SOLO/Laptop is about the size of a network card, requires no external power or cables, and carries the full power of a UAD-2 SOLO card. Like all UAD products, it runs on VST, AU, and RTAS, on Mac OS X (10.4/10.5) and Windows XP/Vista.
The UAD-2 SOLO/Laptop will available in early Q2 at a MAP price of $499 USD.
Visit Universal Audio for more information.