Universal Audio has released UAD Software Version 5.7.0, including the EP-34, a classic tape echo plug-in, and the dbx 160, a compressor/limiter plug-in.
Released in September 2010, UAD Software Version 5.7.0 represents another step forward for the award-winning UAD Powered Plug-Ins platform.

UAD v5.7.0 includes the new EP-34 Classic Tape Echo plug-in for UAD-2, the now officially-sanctioned dbx 160 Classic Compressor/Limiter plug-in (formerly VCA VU), and improvements for Windows users.
Changes in UAD Softwave Version 5.7.0
New UAD-2 delay plug-in: EP-34 Classic Tape Echo.
UAD VCA VU is now officially licensed and renamed to UAD dbx® 160.
(UAD-2) Firmware update resolves potential flash memory errors.
(Win) UAD Meter settings are now obeyed under certain DAWs with Vista/Win7.
(Win RTAS) Manley Massive Passive and Precision Enhancer Hz are now installed on non-english language systems.
The EP-34 is a warm, highly adjustable, tape echo emulation inspired by two classic Echoplex units.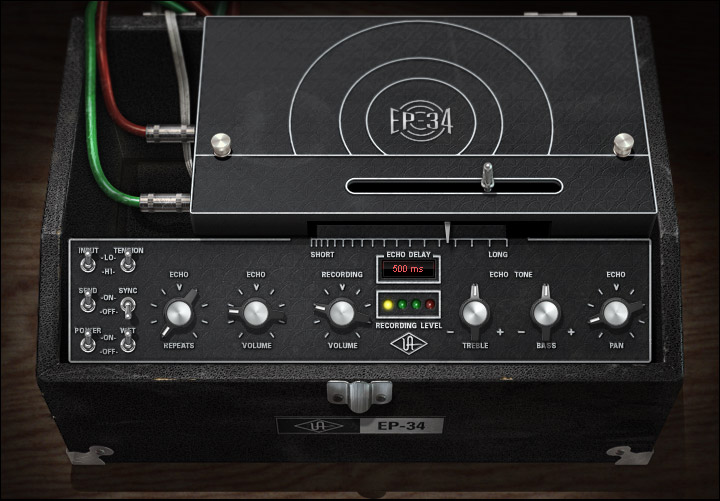 Universal Audio's EP-34 Tape Echo plug-in gives guitar players and mix engineers the rich, warm tape delay effects of vintage Echoplex units, now on the UAD-2 Powered Plug-Ins platform for Mac and PC. One need only listen to classic recordings from Jimmy Page, Brian May, Chick Corea, Eddie Van Halen, Eric Johnson and Andy Summers to hear the Echoplex sound in action. Unlike other Echoplex emulations, the EP-34 is the first plug-in that targets specific behaviors of both the EP-3 and EP-4 Echoplexes.
EP-34 features
Highly desirable sound of original EP-3 and EP-4 Echoplex tape delay units, now available as a UAD-2 plug-in for Mac or PC.
Tape echo effects virtually indistinguishable from those used on countless classic recordings of the past six decades.
Unique movable record head design creates warm, rich sound unlike any other delay unit.
Provides a range of tones, from simple slap effects to self-oscillation chaos.
Amalgam of features from EP-3 and EP-4 hardware units, plus "digital only" extras for modern mix use.
Requires a UAD-2 DSP Accelerator Card available from authorized dealers worldwide.
The dbx® 160 compressor / limiter is a faithful plug-in emulation of the first commercially available VCA compressor.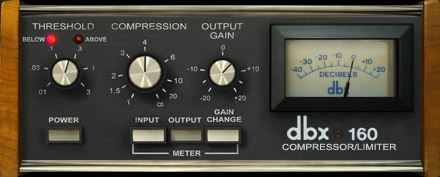 The dbx 160 Compressor/Limiter is an officially licensed and faithful emulation of the legendary dbx 160 hardware compressor/limiter — still widely considered the best VCA compressor ever made. Originally designed and sold by David Blackmer in 1971, this solid-state design set the standard for performance and affordability. The dbx 160 (commonly referred to as the "VU") is a highly regarded studio staple, famous for its simple control set and firm, distinct compression characteristics. Unlike later monolithic IC units, the "VU" uses a series of discrete components for gain reduction resulting in unique nonlinearities not found in other VCA compressors — a sonic distinction from later models. The UAD Powered Plug-In version of the dbx 160 captures all of the sonic nuances from our "golden" modeling unit, plus the simple control set of the original hardware, including Threshold, Compression (Ratio) and Output Gain. Just like with the hardware, LED threshold indicators are provided in the plug-in, as well the Input/Output/Gain Change VU meter for which the unit is famous.
dbx® 160 Compressor / Limiter features
Officially licensed plug-in model of the dbx 160 — the first solid-state VCA compressor.
Modeled discrete version with unique nonlinearities.
Same simple control set of its analog counterpart.
Threshold, Compression and Output controls.
LED threshold indicators just like the original.
Input/Output/Gain Change VU meter.
Modeled from desirable 'non-monolithic' original design, adding unique nonlinearities.
Requires a UAD-1 or UAD-2 DSP Accelerator Card available from authorized dealers worldwide.
The EP-34 and dbx 160 are available to purchase for $199 USD each. Until 1 October you can get 20$ off on a second plug-in with the purchase of the EP-34 or dbx 160.
More information: Universal Audio