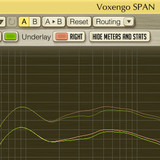 Voxengo has announced the release of version 2.2 of SPAN, a real-time "fast Fourier transform" audio spectrum analyzer plug-in for Windows and Mac.
SPAN provides you with a very flexible "mode" system which you can use to setup your sound analysis preferences. You may specify Fourier block size in samples, FFT window overlap percentage, spectrum's visual slope. Beside that you can choose to display secondary spectrum of a desired type (e.g. real-time maximum, all-time maximum). Spectrum can be visually smoothed out for an easier examination.
Changes in SPAN v2.2
Correlation meter values around -1 are now displayed correctly in the "density" mode.
Statistics "reset" function now resets statistics of all channels correctly.
K-metering modes now use fixed 600ms RMS and release time constants.
Additional visual look variation settings added.
Underlay color selection was removed – group's defined color is used now.
"Hide Meters and Stats" switch added.
Spectrum display is now more precise in high-frequency region.
SPAN is available to download as a freeware effect plug-in for Windows and Mac (VST/AU).