Universal Audio has released version 5.3 of its UAD Software, including 14-day fully-functional trials of the new UAD 4K Channel Strip, UAD 4K Buss Compressor, and Cooper Time Cube MkII delay.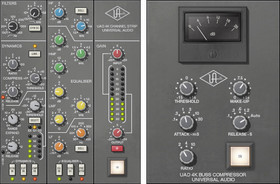 The UAD 4K Channel Strip is an exacting circuit emulation of the SSL 4000 G+, complete with the Type E "black knob" four-band EQ widely held to be the favorite in SSL's console lineage. The companion UAD 4K Buss Compressor, with its simple control set and wonderfully transparent compression characteristics, faithfully models the 4000 G+ buss compressor. With their intuitive EQ rich with colorful band interdependencies and wide range of transparent to in-your-face VCA compression characteristics, both UAD 4K plug-ins painstakingly emulate the console channel and buss compressor from the 4000 in all its hit-making glory.
The Cooper Time Cube is one of the most unique delay lines ever made, designed by Duane Cooper and Bill Putnam.
The Cooper Time Cube MkII is a feature-enhanced evolution on the original delay system design. While the plug-in retains the mechanical delay sound of the original hardware, it goes further by offering all the necessary features expected from a modern device: Delay, Decay, Pan and Volume controls plus Tempo Sync and Automation for each of the two independent delay lines.
Changes in UAD Software v5.2
New plug-in: UAD 4K Channel Strip.
New plug-in: UAD 4K Buss Compressor.
New plug-in: UAD Cooper Time Cube Mk II (UAD-2 only).
Extra presets are included in installation.
Enhanced dialogs when loading authorizations.
(UAD Meter) Added key command for "Always On Top" mode.
(UAD Meter) Card disable button updates after scrolling in System Information tab.
(UAD Meter) Use Host Mode setting works properly in Cubase 4/Nuendo 4.
RTAS: UAD buffer automatically configures to match audio hardware I/O setting.
RTAS: Mono instances generally use less DSP.
RTAS: Factory presets available in RTAS format.
RTAS: (Mac) Fixed plug-in UI drawing issues under Mac OS 10.5 Leopard.
UAD-2: New firmware improves overall performance and stability.
UAD-2: RE-201 now sonically matches UAD-1 version.
UAD-2: Fixed "DSP Load Limit" error with multiple Cambridge EQ instantiations.
UAD-2: Fixed Precision EQ "DSP Limit Expired" error when DSP Load Lock is disabled.
UAD-2: Fixed intermittent audio corruption and system spiking with Precision De-Esser.
Windows: Plug-in subfolders are created when UAD presets saved with UAD Toolbar.
Macintosh: Authorization files can be dragged onto UAD Meter window.
The UAD 4K Channel Strip is $249 USD, while the UAD 4K Buss Compressor is available for $199 USD for UAD-1 and UAD-2 owners. The Cooper Time Cube Mk II is available for purchase to UAD-2 owners for $149 USD.
Visit Universal Audio for more information.