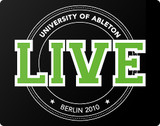 Ableton has announced the University of Ableton, a limited time offer for free online training with a purchase of Live.
Ableton has partnered with the leading online education providers to offer free Ableton Live training when you buy Live 8, Suite 8, Live Intro or any upgrade between September 1 and October 31, 2010.

Whether you're an experienced studio veteran, a DJ who wants more creative possibilities or are just getting started with music production, there's Ableton Live training for you.
You'll be able to get free training from all of the following education providers: Berkleemusic.com, Sonic Academy, AudioTechKnowledge.com, Live-courses.com, DVD Lernkurs (German), microFusa (Spanish), Elephorm (French).
After you buy an eligible product, you'll get a coupon that gives you access to any—or all—of the training options.
More information: Ableton / University of Ableton