UVI has announced an update to its monolithic hardware synthesizer sound library featuring a collection of vintage and modern synth sounds.
Synth Anthology 3 delivers a collection of over 3,500+ hand-crafted presets sampled from 132 synthesizers, including classics and rarities dating back to the early '70s. Get the authentic sound of hardware in a modern software instrument.
Version 3 sees the addition of 55 new hardware synthesizers including vintage analogs like the ARP 2600, Oberheim SEM, and System-100, digital synths like the Novation Peak and Casio VZ-1, and modern classics like the Quantum, One and Sub 37.
An incredible collection of hardware synthesizer sounds, expertly programmed, individually sculpted with outboard processors, multisampled and mastered to perfection. Synth Anthology 3 delivers the pure and powerful sounds of 132 hardware synthesizers, gently processed to taste with the best hardware processors on the market.

You'll find everything from classic analogs like the Oberheim SEM and ARP 2600 to digital powerhouses like the Synclavier and FS1R, to modern classics like the OB-6, Prophet 6 and Minilogue, all expertly programmed and sampled, delivering the authentic and unmistakable sound of hardware.
The update comes with 1,000 new presets, 542 new raw waves, an improved FX section with EQ, and an updated arpeggiator section now with Chord and Phrase modes.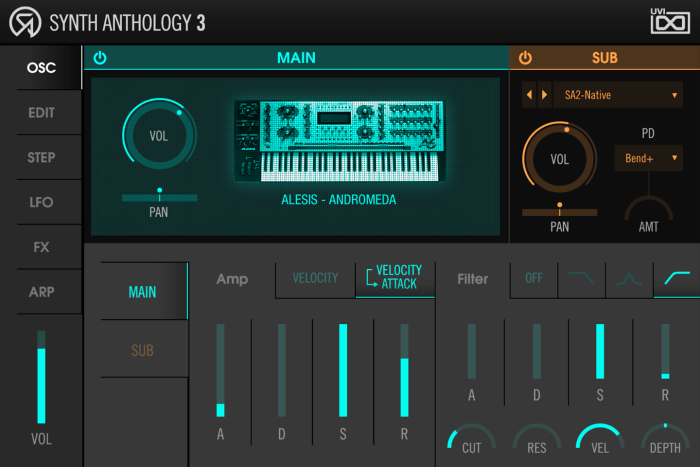 Synth Anthology 3 provides deep sound editing capability in a clear and easy-to-use, updated interface.
Presets can be fully customized, with controls for amp, filter, stereo placement, effects, LFO and step modulators, arpeggiator and a discrete sub-oscillator, allowing users to make changes as subtle as EQ adjustments to completely reshaping, layering, and customizing the sound, all with the convenience of a software instrument.
Synth Anthology 3 is on sale for the introductory price of $99 USD/99 EUR through November 11th, 2020. Users of previous versions can upgrade for 49 USD/EUR.
More information: UVI