UVI has launched an exacting rotary speaker emulation with modern controls, offering independent mic placement for sophisticated tone shaping.
Rotary brings a vintage effect into the modern age with intuitive and deep controls, a fast workflow and a sophisticated engine.
Originally invented in the 1940's, rotary speaker cabinets imaginatively employ the Doppler effect by firing a woofer into a rotating drum and a tweeter into a rotating horn. The results are much more harmonic than typical tremolo or vibrato effects, producing sounds ranging from rich and shimmering to gentle, dreamy and swirling. These novel speakers were quickly adopted by jazz organists, cemented by blues and rock legends such as Buddy Guy, Jimi Hendrix, Robin Trower, Pink Floyd and The Beatles, and later the effect simulated by guitar pedal manufacturers.

Taking its name and inspiration from these classic spinning speakers, Rotary represents the modern evolution of this classic design, delivering both a faithful reproduction of the original cabinets and providing a highly versatile and customizable musical tool for today's artists and audio professionals. A simple and intuitive interface provides for a workflow that's both fast and inspiring, while precise stereo mic placement and deep back panel controls allow for a huge range of tonal possibilities. Rotary can add another dimension to any sounds or instruments (even vocals), enhance harmonics and create a sensation of movement and depth.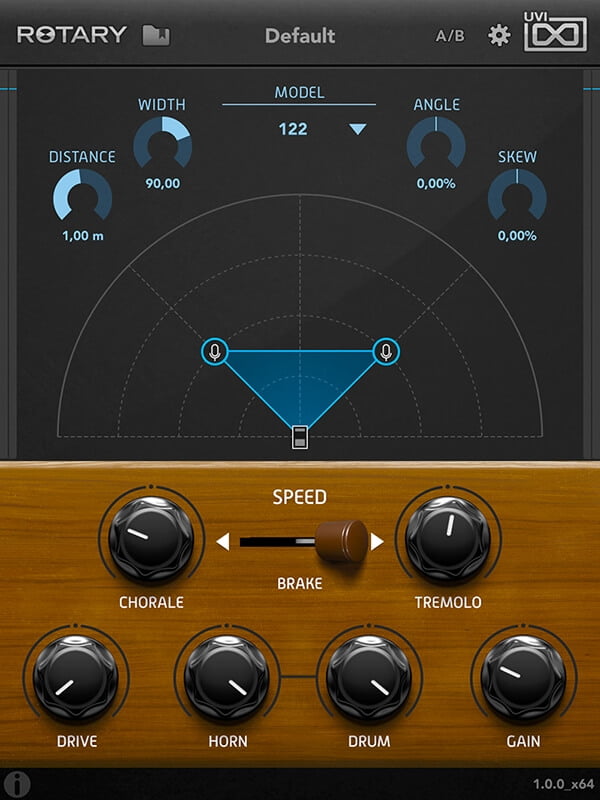 Rotary features
Custom microphone placement (hemispherical).
Intuitive macro controls (width, distance, skew) and independent click-drag microphone placement.
3D real-time ray-traced early reflections, simulating up to third order.
Shape sounds naturally (metrics based on original horn / drum directivity measurements).
Precise angular Doppler effect.
Realistic sound diffusion for open and closed box configurations.
Precise tone reproduction (measured horn / drum impulse responses).
Amplifier Drive: faithful reproduction of even / odd harmonics.
Amplifier Pre-Emphasis control (compensates horn frequency response).
Rotary for Windows and Mac (VST/AU/AAX) is on sale for 49 EUR/USD for a limited time (regular 79 EUR/USD).
More information: UVI Rotary