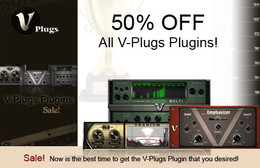 V-Plugs has launched a limited time sale, offering its effect plug-ins at a 50% discount.
Inspired by the pastoral view of Haifa, V-Plugs brings the most colorful and full of charm sound processors to your professional studio, at value prices. We believe that audio software should have as much warmth and character as the hardware competitor. Our plugins offer the advantages and flexibilities of the digital world, while not neglecting the analog liveliness that we all love!
V-Plugs plugins
Uranium (compressor) – Now 39 EUR.
Based on "Smart Dynamic Control" technology (SDC), Uranium brings compression to the 21st century, with a distinctive sound, unique features and better monitoring! From light transparent dynamic treatment, to heavily pumping and breathing compression, the Uranium sounds like no other compressor you have ever heard before!
Echo Trip (tape echo) – Now 49 EUR.
Fusing vintage and modern, complexity and ease of use, Echo Trip presents new standards in the echo domain! Whether you are after the perfect emulation of vintage tape-echo machines, or you need new exciting audio spices- take a ride with Echo Trip and you just might fall in love!
Emphasizer (tone shaper) – Now 29 EUR.
Emphasizer is a new breed of sound processor, that offers you a unique way to re-sculpt the sonic character of your audio material. Emphasizer can be described as the cheeky young brother of the equalizer, and anyone who has ever used an EQ will find Emphasiser very easy to operate. Yet, soon after you hear it in action; you will notice that the Emphasizer is quite a different creature, with character and charm of its own!
V-Plugs plugins are available for Windows PC (VST). The sale ends June 20th, 2012.
More information: V-Plugs