The free VCV Rack virtual Eurorack system has been updated to version 0.4.0.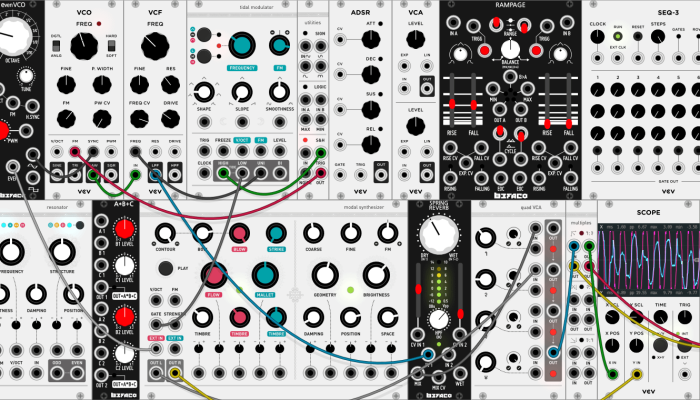 The update includes a new VCO in Fundamental, Lissajous mode in Scope, Rampage dual slope generator, output port cable stacking, plug lights, and more.
Changes in VCV Rack v0.4.0
Cables can now stack on output ports.
Added sub-menus for each plugin and scrollable menus.
Added MIDI CC-to-CV Interface, updated MIDI-to-CV Interface.
Added new scrolling methods: middle-click-and-drag, shift-scroll, and arrow keys.
Added engine pausing in sample rate menu.
Added resizable blank to Core.
Added plug lights for monitoring voltages of cables.
Support for AMD Phenom II processors.
Self-contained app bundle on Mac, plugins and settings go in ~/Documents/Rack/
Fundamental:

Added Lissajous mode to Scope.
Added two LFOs and VCO-2.

Befaco:

Added Rampage dual slope generator.

Audible Instruments:

Added Keyframer/Mixer, based on Frames.
Added nonlinear string and chord mode to Modal Synthesizer, based on Elements.
VCV Rack is a free download for Windows, Mac and Linux. The additional Audible Instruments, E-Series and Befaco modules are also free.
For more free modules, check out Sonus Modular, a collection of 7 modules for VCV Rack by Sonus Dept.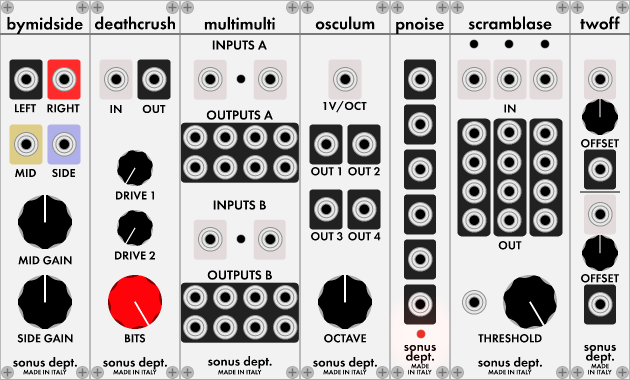 The modules included are:
Bymidside: MS (mid-side) encoder.
Deathcrush: distorsion and bitcrusher.
Multimulti: a simple but handy double 2-in 8-out multiples.
Osculum: a VCO capable of harmonic but unusual sounds.
Piconoise: an ultra compact white noise generator with 8 outputs.
Scramblase: triple quadruple waveshaper.
Twoff: double CV static offset.
The source code is licensed under GPL, and binary releases for Windows and Linux are provided (OS X binaries coming soon). Requires VCV Rack v0.4.0.
More information: VCV Rack