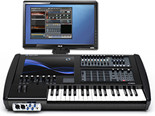 Vibration Management has announced the MST OL1, a professionally designed secondary monitor display modification of the Open Labs Miko and Neko instrument.
An Asus VH203T 20″ monitor display (resolution 1600×900) is attached to the Open Labs Miko or Neko, with adjustability for viewing and completely folding down to protect both displays. The added monitor can be added as an extended monitor setting.

No modifcations are made to the Miko itself. The mounting bracket is attached to the already existing holes on the Miko or Neko.

Upon ordering, the monitor and attaching bracket are shipped to you. For more info on Open Labs products, please visit www.openlabs.com.
The MST OL1 is available to purchse for $425 USD plus shipping (includes monitor).