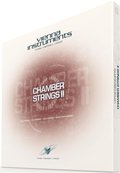 Vienna Symphonic Library has released Chamber Strings II, the sequel to Chamber Strings I, offering all-new articulations and sonic subtleties for the small string ensembles.
Chamber Strings II contains many of the playing techniques that the first Collection includes, but played "con sordino" (with mutes). They lend themselves well to soft, intimate arrangements, and provide nuanced variations to your orchestral pallet. The muted chamber ensembles are a refined addition to your treasure chest of string varieties from Vienna!
Chamber Strings II features
All of the recorded samples were performed by an accomplished ensemble of string players who have been lending their talents and their international experience to the Vienna Symphonic Library for years:

Violin ensemble (6 players)
Viola ensemble (4 players)
Cello ensemble (3 players)
Double bass ensemble (2 players)

Offers various facets of short and sustained notes, crescendos and diminuendos, but also includes Vienna's unique Interval Performances, including legato, portamento, and trill performances. Check here for a complete list.
Chamber Strings II is available on DVD in a standard version for €365 EUR (13,245 samples), and a full version for €510 EUR (30,405 samples).
Visit Vienna Symphonic Library for more information.