Vienna Symphonic Library has announced the release of Vienna Smart Orchestra, a new virtual instrument library that offers a large orchestra and additional organic FX textures, mapped over the entire range of the keyboard.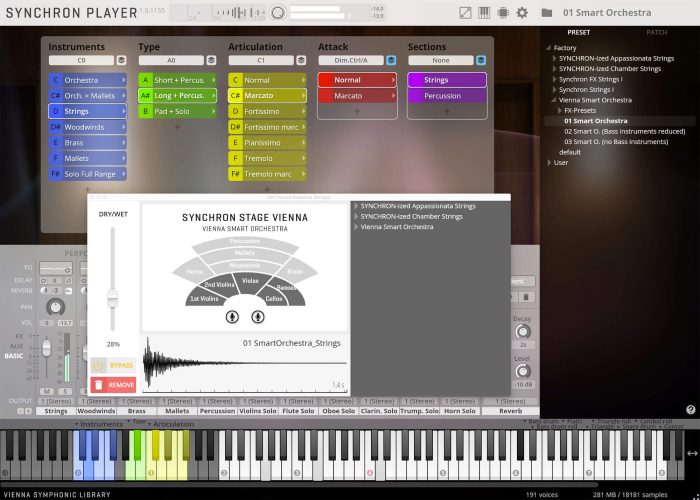 Vienna Smart Orchestra comes with the new Vienna Synchron Player that lets users play all the main sections of the orchestra together or separately, with the possibility to add selected solo instruments.
Playing a 140 piece orchestra on the keyboard has never been easier and more rewarding. The Vienna Smart Orchestra brings the power of a large symphonic orchestra right to your fingertips. Whether you are looking for inspiration, quickly sketching a symphonic idea, delivering a final score on a deadline, or playing live on stage – this orchestral powerhouse lets you play all the sections and lead instruments at once, spread out over the entire keyboard.

Create large orchestrations on the fly, without worrying about balancing and fine-tuning the instrumentation! Get creative with experimental FX presets for hybrid soundscapes and organic textures. This lean and resource-saving package delivers a perfectly balanced orchestra that's fun to play, and at an irresistible price.
Vienna Smart Orchestra features
Full orchestra + percussion, with and without mallets section.
Different Presets with full range of bass instruments, reduced range, and without bass.
Individual sections: strings, woodwinds, brass, mallets.
Separate solo instruments, full range: violins, flute, oboe, clarinet, trumpet, horn.
FX Presets in 4 categories: Pads, Plucks, Leads, and Processed Percussion.
Articulations include:

Short notes, short notes + pizzicato.
Long notes: normal, fortissimo, pianissimo, tremolo. All except pianissimo also with marcato attack.
Pad + solo: normal and soft pad, staccato, pizzicato, and tremolo plus solo instruments.
FX: articulations according to FX type.
Vienna Smart Orchestra is available for the intro price of 145 EUR through September 30th, 2018 (regular 175 EUR).
Registered users of Vienna Special Edition Vol. 1 or of any one Collection included with the Symphonic Cube (Standard or Full Library) can purchase Vienna Smart Orchestra at discounted price of 95 EUR. This price goes up to 125 EUR in October, 2018.
More information: Vienna Symphonic Library