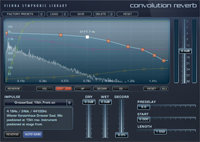 Vienna Symphonic Library has announced version 1.1 of effect plug-in bundle Vienna Suite, a collection of 9 advanced, yet easy to use plug-ins for mixing and mastering.
For optimum precision, they offer full 64-bit audio processing on all major 64-bit and 32-bit host platforms. Supporting the formats AU (Mac OS X), VST (OS X, Win), and RTAS (OS X), Vienna Suite is the ideal solution for anyone who wants to shape a mix using high-end audio tools.
Vienna Suite v1.1 features
Convolution Reverb

Full 64-bit "True Stereo" 4 channel processing of impulse responses
Includes impulse responses of 5 halls of the Vienna Konzerthaus, 3 ORF sound stages, and selected acoustic spaces by Inspired Acoustics and Numerical Sound.
Unique impulse response decorrelation algorithm allows for rich, lush and spacious atmospheres
Advanced impulse response manipulation
Zero latency processing
Non-destructive envelopes for impulse response volume, pan, decorrelation, highpass and lowpass
High-quality impulse sample rate conversion
High-quality impulse equalizer
Reverse impulse response
Pre-delay (0–500 ms)
Time stretch (25–400%)
Auto gain (compensates impulse volume)
Reads WAV, FLAC, VCI formats
Sample rates up to 96 kHz
Formats AU, VST, RTAS (Mac OS X – Intel only, does not install on PPC Macs), VST (Win)

Equalizer for silky smooth highs and deep and powerful lows – includes an integrated 120 band spectrum analyzer. Extremely low CPU usage.
Master Equalizer provides 3 filter types on 5 bands and additional high and low shelf filters with 2 filter types. The use of 4x oversampling makes internal calculations extremely precise. The weapon of choice for delicate sonic mastering tasks.
Limiter with real-time input/output waveform display and auto-mode for transparent maximization.
Compressor – featuring modern and vintage algorithms and a real-time input/output waveform display.
Multiband Limiter – offering 4 bands with transparent crossover filters and an additional full-range brickwall limiter at the final output stage.
PowerPan for powerful stage positioning of instruments, featuring real-time audio angular analysis.
Exciter – offering 4x oversampling, tone-color sliders for mixing odd and even harmonics, and a high frequency FFT spectrum analyzer.
Analyzer – featuring a 120 band analog modeled spectrum analyzer, a fast and accurate display of bass frequencies, an auto mode for automatic range management, and a loudest frequency note display.
The Vienna Suite version 1.1 is available now for purchase for 395 EUR.
Visit Vienna Symphonic Library for more information.