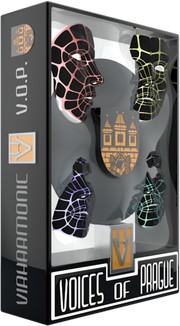 Virharmonic has launched a Winter Madness Sale for its Voices of Prague, a Kontakt 4+ based choir with full syllable sequencing.
The choir was recorded with carefully hand picked selection of singers from Prague Philharmonic Choir. Special new deep sampling techniques were used to capture the colour and emotion of the human voice.

Each voice group (S.A.T.B) was recorded in groups of 3 Singers and the library consists of 3 Divisi per voice group totalling 12 Divisis at your disposal if full choir is played. This stops the unwanted layering of voices and making the mix sound overwhelming.

This library is made to provide the composer with absolute Rhythmic and Lyrical Freedom when writing for choir, but also to blend well with all other Choral and Orchestral instruments.
Voices of Prague features
Full S.A.T.B. Choir and Cinematic FX.
Three part auto divisi per vocal range.
Full Syllable Sequencing with double and Slavonic consonants.
Auto Poly-Legato with vowel morphing.
Auto voice splitting.
Auto-round robin/Humanising.
Custom IRs.
Articulations: Sustains, Staccatos, Marcatos and Lush scripted Legato.
All in Three Dynamics – pp, mf, ff.
Over 27,000 Samples.
Massive ranges: Basses E2-E4 , Tenors C3-C5, Altos G3-E5, Sopranos C4-C6.
Voices of Prague is currently available to purchase for the "Winter Madness" price of $299 USD (regular $449 USD).
More information: Virharmonic