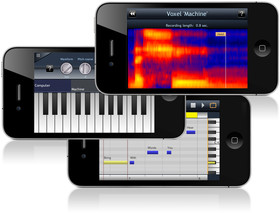 VirSyn has released version 1.2 of iVoxel, a vocoder app for iOS.
iVoxel is not only an amazingly sounding vocoder for iPhone/iPod and iPad – the unique concept of iVoxel turns this vocoder into a singing machine going far beyond the capabilities of traditional and software vocoders on any platform.

iVoxel is a combination of a voice optimized synthesizer and a vocoder with an unprecedented intelligibility. The vocoder part is based on the Matrix vocoder from VirSyn used by many famous artists – one of them the well known german group Kraftwerk. The channel filters used by iVoxel are based on the Sennheiser Vocoder VSM201 resulting in a rich and fat analogue sound characteristic.
Changes in iVoxel v1.2
Speaker switch to enable loudspeaker on iPhone.
Improved voxel recording quality.
Improved performance for iPhone 3G / iPod 2.Gen.
Consonants can now played voiced by turning consonants all the way down.
iVoxel is available to purchase from the iTunes App Store for £6.99 GBP.