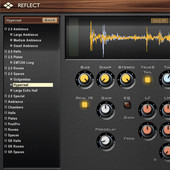 VirSyn has released version 2.5 of REFLECT, a hybrid reverb effect plug-in for Windows and Mac.
The algorithmic reverb tail of REFLECT is now made with a true stereo processor – this means that the spatial position of the input signal influences the character of the resultant reverb tail. As a nice side effect the new processor gives you an even wider stereo panorama and increased resolution and density in the reverb tail.

To "warm up" the reverb tail an improved modulation algorithm has been added too.
Changes in REFLECT 2.5
VST3 / VST2.4: 64-bit version for Windows 7 and Windows Vista.
True stereo reverb tail.
Reverb tail modulation range increased for warm sounding tail.
VST3: AI Knob Interface integrated.
REFLECT is available to purchase for 99 EUR (excl. VAT) for the first 200 customers in celebration of the introduction of the 64-bit version.