VirSyn has announced its Summer Special 2010, a limited time offer on its effect plug-ins.
From now till August 31st, 2010 you can get any of our effect plugins for only Euro 119.-

If you buy three or more effect plugins before August 31st, 2010 you´ll get one additional effect plugin for free !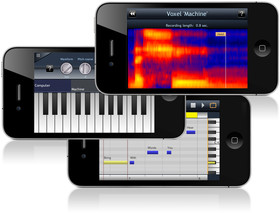 VirSyn has also announced iVoxel, a "singing vocoder" App for iPhone/iPod and iPad.
iVoxel is not only an amazingly sounding vocoder for iPhone/iPod and iPad – the unique concept of iVoxel turns this vocoder into a singing machine.

iVoxel is a combination of a voice optimized synthesizer and a vocoder. The vocoder part is based on the Matrix vocoder from VirSyn used by many famous artists – one of them the well known german group Kraftwerk.

The channel filters used by iVoxel are based on the Sennheiser Vocoder VSM201 resulting in a rich and fat analogue sound characteristic.
iVoxel features
Realtime analysis/resynthesis of your voice.
20 Channel vocoder.
Voice spectrum recorder (voxels).
Over 200 prerecorded voxels included.
Play your vocoded voice live on keyboard. Drag for slides and vibrato..
Sequencer for notes & lyrics.
Voice optimized monophonic synthesizer.
Time warping of voxels.
Gender changer.
Breath noise.
12dB Lowpass filter.
Pitch vibrato with delay.
Chorus/Delay effects.
Export/Import of projects and voxels.
Export of audio recordings.
VirSyn iVoxel is coming soon to the iTunes AppStore.