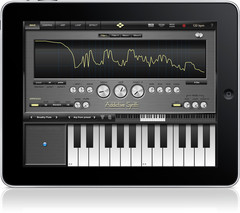 VirSyn has updated its Addictive Synth for iPad to version 2.0.
The new spectral noise generator adds a new dimension to the already huge sound universe of Addictive Synth. This generator is the first of its kind and allows for extraordinarily detailed control over the dynamic spectrum of the noisy part of sounds. Despite its complexity it's pretty easy to use and integrates naturally into the sound design philosophy of Addictive Synth.

With the integration of a hi end reverb we closed the last gap to get fully addicted.

One more thing…
…the revised GUI is now compatible to the retina display of the new iPad !
Changes in Addictive Synth v2.0
Spectral noise generator with dynamic filter structure.
Hi end reverberation unit.
Revised GUI with retina support for new iPads.
32 new sound presets.
Many MIDI controllers added.
Revised PDF Manual.
Addictive Synth for iPad is available to purchase for $5.99 USD. Version 2 is free for all users of 1.x.
More information: VirSyn / Addictive Synth