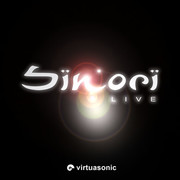 Virtuasonic has released Sinori Live, a sample library for Kontakt 4, based on a brand new musical instrument, called Sinori.
Sinori is a one of a kind percussion derived from a sheet of steel, capable of producing a wide range of interesting sounds thanks to its unorthodox design and shape that allows unique playing techniques, as well as the most traditional ones. If you want more information about the Sinori Percussion, you can visit www.sinoripercussion.com

Throughout the last year, Virtuasonic has recorded two Sinori models in collaboration with its creator: a standard version (named Sinori Studio, not yet released) and a special prototype (Sinori Live). This sample library features the Live model.

Thanks to the high resolution samples recorded at 24 bit / 96 KHz and the mapping capabilities of KONTAKT, the instrument's range has been extended to produce a wide palette of sounds that can rival other metallic percussions and bring new flavours to your compositions at the same time.
Sinori Live features
9 instruments for KONTAKT 4.2.
517 samples (recorded Dry).
Sampled at 24 bit / 96 KHz.
Size: 1,6 GB (compressed).
Up to 10 Dynamics and 8 Round robins.
Playing techniques: Mallets (hits, crescendos, rolls, trills), Superball Mallets, Harmonics (bamboo and woodsticks), Body-playing (flexion: center, knee, hand/top), Muted hits (woodsticks).
Requirements: Native Instrument KONTAKT 4.2 or later (Full version).
Sinori Live is available to purchase as a download for the the introductory price of 24.95 EUR (excl. VAT) until May 8th, 2011 (regular price 29.95 EUR excl. VAT).
Virtuasonic has also launched a special sale on other products, offering 20% off on each single sample library and 40% on bundles. This offer ends on May 8th.
Visit Virtuasonic for more information.