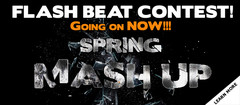 P5Audio has launched another Flash Beat Contest, the Spring Mash Up!.
The Challenge: Using at least one element from each of the folders provided in the FREE sounds zip file provided below, PLUS any sounds of your choice, create the hottest Dance, Hip Hop, RnB, Rock, Hybrid, Dubstep, Techno or any other type of track you want. The genre does not matter! It just has to be hot.
Contest prizes
$100 in FREE P5Audio Sounds!
A Blog Post about the Winning Music Producer on the P5Audio Blog.
Followers on Twitter and Facebook will get a bonus prize.
The Spring Mash Up! contest ends May 2nd, 2011 11:59PM PST.
More information: P5Audio