Matt Tytel has announced that his upcoming Vital spectral warping wavetable synthesizer will be available on November 24th.
The new synth by the developer of Helm features spectral warping which acts on a waveform's harmonics and can create drastically different shapes and timbres from a simple source.
Discover how warping the harmonic makeup of a wavetable can completely create a new set of sounds. Stretch, shift, smear and skew harmonics up, down and around the spectrum to explore new timbres and create sounds you didn't think possible with wavetables.

See how everything works while you play in this visual synth. Vital has animated graphical displays when you need them. Everything moves in real-time so you can see what's going on behind the scenes.

Quickly design sounds with an optimized drag-and-drop modulation workflow. The modulation preview gives you an idea of what things will sound like before you drop the connection. With this, you can try modulating different destinations by dragging around the screen.

Discover new design techniques using Vital's unique features like stereo-modulation. Stereo split an LFO to have the left channel's modulation delayed from the right or give slight stereo time differences to an envelope to create wider stereo effects.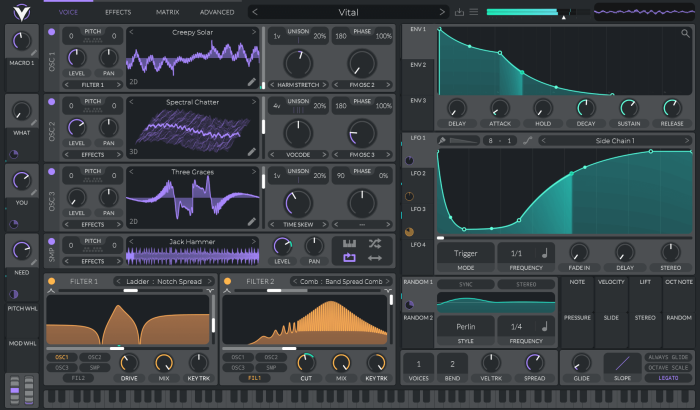 Vital features
High quality wavetable oscillators with frequency warping and wave warping.
Efficient unison.
Two routable voice filters with several analog and digital models, each with multiple continuous blending modes.
Audio-rate modulation so you can create clean drum transients and frequency modulate filter cutoff.
Stereo-splitable LFOs with custom and editable shapes.
Keytracked LFO settings.
Modulatable envelopes with custom curves.
Modulation remapping so you can customize the shape of every modulation.
Custom sample source.
Random modulation sources like Perlin, Lorenz Attractor, S&H and Sine Interplation, each with stereo options.
Eight routable effects including a multiband compressor, multi-mode phaser and 16 voice chorus.
MPE support.
Microtonal file support.
Oscilloscope and spectrum viewer.
Preset browser with sort, search, tag and folder organization.
Vital will be available for Windows, Mac and Linux in VST/VST3, AU and LV2 plugin formats.
The free basic version comes with 80 presets and 25 wavetables, while paid versions include with additional presets, wavetables, samples and LFO patterns.
More information: Vital Audio