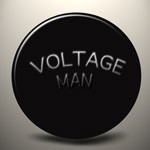 Voltage Disciple has announced the release of Voltage Man, a new sound set for Ableton Live.
VOLTAGE MAN is a set of 9 primary instruments for LIVE SUITE 8.1.4 and above. The Pack includes KIKMAN ANAKIK PERCMAN1 PERCMAN2 THIPMAN HATMAN CLAPMAN SNAREMAN AND 303MAN.

These instruments allow the LIVE user to quickly develop a minmal drum sound at low cpu cost as well as providing a classic 303 bass. Each instrument comes with macro controls mapped to key parameters for controlling the sound allowing the user to vary the sound but still remain in a useful spectrum. 303MAN contains the same 8 controls as the original bassline to provide an authentic sound.
Voltage Man for Live Suite 8.1.4 and above is available to purchase for $10 AUD.
More information: Voltage Disciple