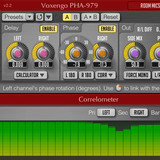 Voxengo has released version 2.2 of PHA-979, a track phase and time alignment audio plug-in for Windows and Mac.
PHA-979 is useful during mixing sessions, especially when working with the sound material recorded through an array of microphones. In many cases this allows you to solve various phasing problems arising from the microphone placement chosen during the tracking session. In other cases this process may help you to align drums and other instruments to each other bringing punch and time coherence not attainable by the ordinary time-aligning alone.
Changes in PHA-979 v2.2
Plug-in initial loading time reduced.
Crash problem on inserting the plug-in on a multi-channel track fixed.
Parameter automation on AU Mac OS X now shows real parameter values.
The "VST Function Sync" global switch was added that fixes crashes in some hosts (i.e. Tracktion).
Preset "update" function implemented in the preset manager.
"Density mode" implemented in level meters.
Correlation meter's inter-band separation increased.
Additional visual look variation settings added.
Voxengo PHA-979 is available to purchase as an effect plug-in for PC and Mac (VST/AU) for $79.95 USD.