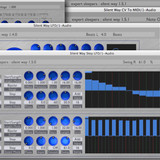 Expert Sleepers has released version 1.6.0 of Silent Way, a suite of plug-ins designed for use with analogue synthesisers, and especially as part of a modular analogue synthesiser system.
The plug-ins produce no sound themselves, nor do they process sound – rather, they generate signals to be used as control voltages (CVs), which can be patched into the control inputs of oscillators, filters, VCAs etc. of an analogue system. Also, with the addition of the CV Input plug-in, it is possible to bring CVs from the synth into the computer, for recording or processing.
Changes in Silent Way v1.6.0
Added support for musical scales to Silent Way Quantizer.
Changed all the plug-in names (that appear in host UIs) from "Silent Way …" to "SW …", so that more of the actual name is visible when space is limited.
Fixed a GUI issue in Reaper on Windows.
Silent Way is available to purchase for PC and Mac (VST/AU) for $49 USD, plus VAT if applicable.
More information: Expert Sleepers / Silent Way