Plugin Boutique has launched a Summer Sale on Voxengo, offering audio effect plugins and bundles at a 30% discount through July.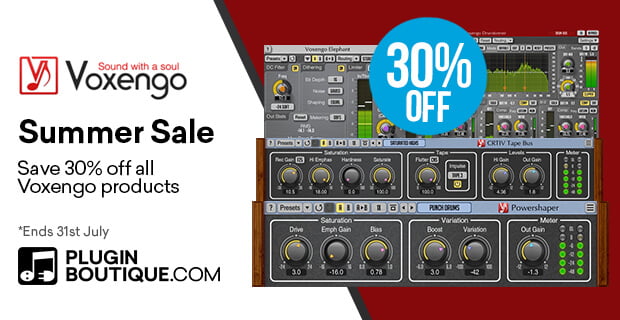 The sale includes the popular SPAN Plus, which was recently updated.
SPAN Plus is a real-time "fast Fourier transform" audio spectrum analyzer plug-in for professional music and audio production applications. For the most part it was derived from Voxengo GlissEQ dynamic parametric equalizer and reproduces its spectrum analysis functionality. SPAN Plus is an extended version of the freeware SPAN plug-in: SPAN Plus provides several additional features such as PNG file export, real-time spectrum import/export and static spectrums display.

SPAN Plus provides you with a very flexible "mode" system which you can use to setup your spectrum analyzer preferences. You may specify Fourier block size in samples, FFT window overlap percentage, spectrum's visual slope. Beside that you can choose to display secondary spectrum of a desired type (e.g. real-time maximum, all-time maximum). Spectrum can be smoothed out visually for an easier examination.
Other popular plugins such as Shinechilla, PrimeEQ, Voxformer and CRTIV Tape Bus are also included in the sale.
The offer expires August 1st, 2019.
More information: Voxengo