Voxengo has updated its free effect plug-ins Beeper to version 2.7, MSED to version 2.8 and Stereo Touch to version 2.7.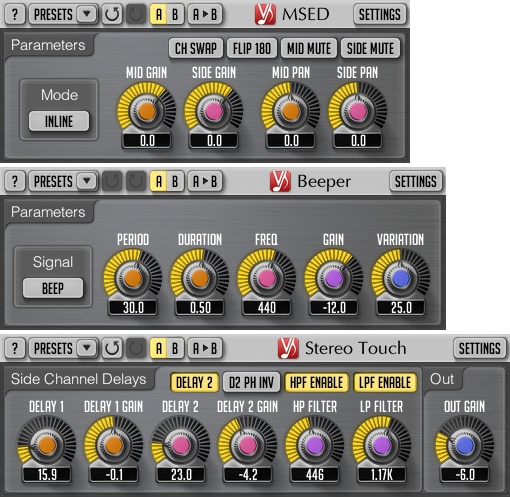 Beeper is an auxiliary audio processing AU and VST plugin which you can use to insert short beep, noise burst or silence signals to any sound material. This plugin may help you protect your work from theft. It is safe to apply this plugin to any mission-critical material because plugin does not perform any processing on the audio between the inserted signals.

MSED is a professional audio encoder-decoder plug-in for mid-side processing which is able to encode (split) the incoming stereo signal into two components: mid-side pair, and vice versa: decode mid-side signal pair into stereo signal.

Stereo Touch implements a classic technique of transforming a monophonic track into spacious stereophonic track by means of mid/side coding technique. By means of this plugin you can easily get spacious and even "surround" sounding tracks, without utilizing a double-tracked recording technique.
Changes in the updates
Added VST3 support.
Implemented color scheme editor with load and save functions.
Added "Brown" and "White" color schemes.
Redesigned the infrastructure controls.
The plug-ins are available for download as freeware for Windows and Mac (VST/AU).
More information: Voxengo