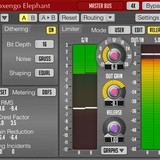 Voxengo has released version 3.6 of Elephant, a compressor effect plug-in for Windows and Mac.
The most remarkable feature of this signal limiter is its ultimate transparency. Elephant brings sound limiting and loudness maximization without any audible "pumping" effects.

Elephant is a highly competitive plug-in for mastering applications: it features a variety of limiter modes that can be deeply customized, and a comprehensive set of level metering tools. Elephant's built-in linear-phase oversampling is a new standard in quality peak limiting and loudness maximization.
Changes in Elephant v3.6
Real-time gain reduction and waveform graphs implemented.
Mid/side and side-chain routing presets now appear dimmed to reduce confusion.
Parameter automation on AU Mac OS X now shows real parameter values.
Preset "update" function implemented in the preset manager.
The "VST Function Sync" global switch was added that fixes crashes in some hosts (i.e. Tracktion).
"Density mode" implemented in level meters.
Occasional extreme CPU overloads eliminated at the expense of average increased CPU load.
"Pure+3" output metering mode's peak indicator is now 3 dB lower.
"Pure" and "Pure+3" metering modes are now known as "dBFS" and "dBFS+3" modes, respectively.
The "No Multi-Channel Operation" global switch was added that fixes incompatibility with some non-VST2.3 compliant VST hosts.
DC filter parameters are now specified for all channel groups to avoid phasing problems.
The "Show All Channel Meters" routing switch added.
Statistics "reset" function now resets statistics of all channels correctly.
A minor issue fixed in the dithering stage.
Elephant is available to purchase as an effect plug-in for Windows and Mac (VST/AU), priced at $130 USD.