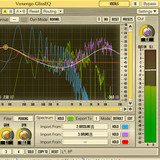 Voxengo has released version 3.0 of GlissEQ, a powerful parametric dynamic equalizer plugin for Windows and Mac.
The most interesting and unique feature GlissEQ offers you is its filters with dynamic behavior. While when using a normal equalizer you always get what you have set: if you specify a 6 dB boost at 100 Hz you get exactly a 6 dB boost at 100 Hz. GlissEQ offers you a slightly different approach: when you specify +6 dB at 100 Hz, you don't necessarily get 6 dB of gain, filter's effective gain is adjusted dynamically according to the sound material you are filtering.
Changes in GlissEQ v3.0
Better filter's dynamic behavior
Notch filters
Spectrum display zooming
Up to 96kHz spectrum range
Multi-channel support
Multi-platform support
Mid/side processing
Undo/redo
Routing matrix
Preset manager
User interface coloration
User interface re-scaling
Channel grouping
Plug-in instance naming
GlissEQ v3.0 is available for PC and Mac (VST/AU) for the introductory price of USD 99.95 two weeks from now (regular price $119.95 USD).