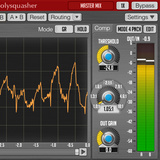 Voxengo has released version 2.2 of Polysquasher, a mastering compressor plug-in for PC and Mac.
Polysquasher was designed with a main goal: to be transparent. Polysquasher achieves its goal by using a unique compression algorithm which requires a small number of parameters – basically threshold and ratio only – making this compressor a joy to use. Polysquasher is best used as a finishing compressor inserted in the chain before the final mastering limiter.
Changes in Polysquasher v2.2
Gain reduction graph's precision was improved.
Preset load inconsistency problem fixed.
Waveform view random glitches issue fixed.
Side-chain routing presets now appear dimmed to reduce confusion.
Parameter automation on AU Mac OS X now shows real parameter values.
The "VST Function Sync" global switch was added that fixes crashes in some hosts (i.e. Tracktion).
The "No Multi-Channel Operation" global switch was added that fixes incompatibility with some non-VST2.3 compliant VST hosts.
Preset "update" function implemented in the preset manager.
"Density mode" implemented in the output level meter.
Polysquasher is available in AudioUnit and VST plug-in formats, for Mac OS X and Windows computers, priced at $69.95 USD.
More information: Voxengo / Polysquasher