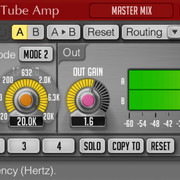 Voxengo has released version 2.3 of Tube Amp, a free audio effect plugin that applies
asymmetric tube triode overdrive usually found in single-tube microphone pre-amp boxes.
The sound this plug-in produces varies from a mild "warm" overdrive to a fuzzy distortion.

This version features a new processing mode that is capable of a very strong overdrive performance suitable for producing a crunchy guitar sound and performing final loudness maximizing.
Additional changes in Tube Amp v2.3
The "Show All Channel Meters" routing switch added.
Additional visual look variation settings added.
Oversampling filter type "Min-phase/Lin-phase" switch added.
Level meter's "density mode" improved.
Plug-in's popup-windows now recover last position after reopening.
The "Min Infrastructure" user interface display mode added.
The "Flat Level Meters" level meter display mode added.
Version change history information window added.
Tube Amp is available as a freeware effect plugin for Windows and Mac (VST/AU).