Recently I came across a website called VST Platinum (no I'm not going to link to it), where former Sony BMG sound engineer Greg Hoffman is trying to sell you a collection of Over 1700 Hi Quality VST Plugins, And 4000 Cutting-Edge Sound Effects.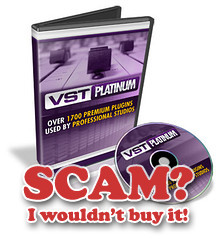 After reading a few paragraphs on this website, scrolling down to the testimonials and checking some of the screenshots of the VST plug-ins I concluded that this $1,838.00 value package that's being sold for $39 is a complete scam.
Obviously, they're selling stuff that's available for free online (screenshots on the website include freeware plug-ins by GTG Synths and Odo Synths).
I noticed some things on the VST Platinum website seemed a bit "off".
Some of the testimonial images have title tags that show "Karaoke Star DVD Testimonial".
It keeps saying there's a 100% money back guarantuee and that the offer may expire 3 days from now, but every day you check the site you'll notice that expiration date is 3 days from the current date.
Somewhere in the bottom it says: You'll get the 2 CD set in your mailbox within 12 days and be on your way to obtaining the most comprehensive lionel trains repair, restoration, parts list and catalog guide. Guaranteed..
Their contact page links to some kind of online support help desk, where I submitted a ticket with a request for a list of the plug-ins. No answer yet…
Okay, so if you are still doubting, don't be fooled.
I checked the Karaoke SuperStar DVD website, which is basically the same as the VST Platinum one, except Greg Hoffman is now Rachel Patterson. Just like Frank Keenan's Lionel Trains site, which funnily enough talks about VST plug-ins in some of the text.
I googled around a bit to find an address that seems to house a lot of these junk websites: 2021 Midwest Road (Suite 200 and possibly others) Oak Brook IL 60523.
I guess this would be some kind of call center since it seems to house tons of companies. You can see the building on Google Maps.
Now all of this could very well be legit in some kind of twisted way, but the same address also comes up with some scam alerts, so I figured I should report it here anyway.
I would hope you would never fall for the offers of these type of sketchy looking sites, but for those who do get tempted by the idea of getting thousands of dollars worth of plug-ins for just $39… it's too good to be true. Don't fall for it!