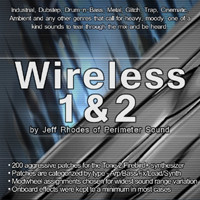 VST Sound Sets has announced the launch of its website, releasing a new bundle of the Wireless soundsets for Tone2's FireBird+, and offering a 30% discount for a limited time.
This is the synth patches and presets outlet store of Jeff Rhodes : Perimeter Sound/Soundspice. All the newest releases will be here first, and at the lowest prices.

I have also released a combo bundle of 'Wireless 1 & 2', so you can get all 200 of my Firebird+ patches at a discounted price.

And speaking of discounts, the grand opening sale is on through August 31st. Save 30% off anything in the store, even the bundles, by entering the coupon code SOUNDSETS at checkout.

Hope to see you there, and feel to drop me a line using the *Contact* page.