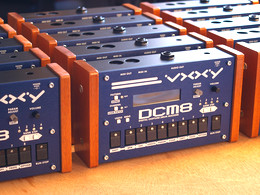 vxxy has announced the production of the DCM8, a dedicated chip tune drum machine.
We announce the production of our first electronic musical instrument the DCM8 Digital Chiptune Drum machine, born from a desire to have chip music sounds in an easy to use studio desk sequencer and live performance package after wearing out our Gameboys with manic button bashing, and also wanting a few other sound styles thrown in for good measure.
DCM8 features
64 Patterns in 8 banks of 8.
Selectable 8, 16 or 32 steps per pattern with half, normal and double speed timing scales.
Adjustable instrument volume, decay and pitch on per step basis.
Dual channel architecture with wide range of retro and unique preset sounds generated by a scripted synthesis engine.
255 digitally synthesized chip sounds, consisting of 223 presets and 32 user generated patches.
8 Levels of live undo on each pattern.
8 Songs with 128 pattern selections.
Clear, Copy and Paste 8, 16 or 32 steps between patterns.
EEPROM based storage of all patterns and user data, with SYSEX backup.
MIDI input and output.
The DCM8 is scheduled for release in early November. A special limited time pre-order price of €349 + delivery, with a choice of white, blue or red LEDs will be available soon.
More information: vxxy