W.A. Production has announced a new expansion pack for the Instachord MIDI processor. What About: LoFi Hip Hop for Instachord features a collection of 50 presets to make your LoFi production even more chill.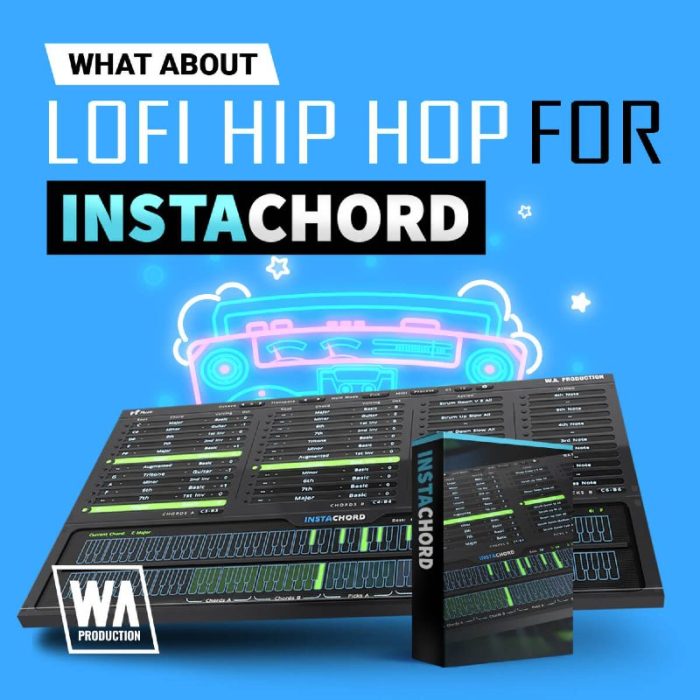 Expand your mind and your sound with these brilliantly crafted LoFi chords. Your imagination has been waiting for this spark of inspiration. You'll never have to worry about your mix becoming stale. Once you dive in and surround yourself in a library of new options, there is no stopping you.

These innovatively structured chords are perfect for Lo-Fi Hip Hop, Chillstep, Lounge, and even relaxation and study music. Enjoy the jazz-influenced theory as you combine chords that relax the mind, soothe the soul, and bring about the euphoric state of chill.

LoFi for Instachord expansions is designed for the MIDI processing plugin Instachord from W. A. Production. This plugin is an amazing tool for beginners learning theory, professionals who need a chord library on hand, on-demand, and for those who want to avoid stagnation and repetition.
The presets pack is on sale for the intro price of $5 USD until June 22nd, 2020 (regular $9.90 USD).
More information: W.A. Production