Plugin Boutique has launched the Xmas Bundle by W.A. Production, a collection of three audio effect plugins at 90% off regular.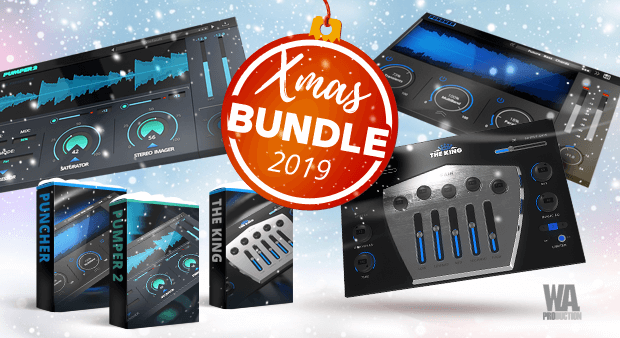 Put some power behind your kick, warm up that lead, level up those softer parts, get rid of the muddy sound in the mids, and finally, conquer compression like a boss.

No complicated manuals, no flashing lights and useless knobs to parameters that make no sense. W.A Production plugins are straight forward, user-friendly, easy on your CPU, come with presets designed for real-life production situations, and they actually do what they were designed to do without any hassles or limitations.
The bundle includes:
Puncher: A transient shaper, multi-band compressor, and parallel compressor. While it can cater to any sound, try it on a kick. You will be blown away by its intense power.
Pumper 2: Compressor, saturator, and stereo imager that will bring out warmth, depth, and beef up the body of your track by allowing you to fine-tune every little detail.
The King: A dynamic multi-band compressor that gives you control of, not 3, but 5 bands of equalization. With a built-in limiter his highness, The King, is a monument to the art of mastering.
The Xmas Bundle is on sale for £15.95 GBP / $19.90 USD until January 14th, 2020.
More information: W.A. Production