Waldorf has announced the PPG Wave 3.V, the reincarnation of the legendary PPG Wave synthesizer, which is arguably the most coveted high-end synthesizer of the 1980s and developed by Wolfgang Palm.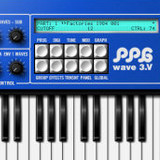 The combination of digital waveshapes and analog filters of the PPG was responsible for an unparalleled fat and thrust boosting character. This has been very accurately recreated in PPG 3.v up to the smallest resolution of detail. With PPG 3.V, it is actually possible to switch between several version of the original. Besides PPG Wave 2.2 and PPG Wave 2.3, PPG Wave 2.V and their subtle differences in aliasing and other sources of harshness are adjustable.

Waldorf PPG Wave 3.V is capable of delivering up to 256 voices of polyphony, depending on the host computer. Each voice offers two Wavetable oscillators with optional sample playback with either 8, 12, or 32 bits of resolution. Samples can easily be loaded by Drag & Drop. An 8 part multimode allows multisamples to be used with the same charme and ease of use that the original offered.

Sound is further shaped by a selectable 12 or 24 dB lowpass filter, which is an authentic recreation of the classic PPG Wave 2.2/2.3 Filter, followed by an optional overdrive for extra fuzz. Besides the LFO, three envelope generators serve as modulation sources, either for the original rude or the contemporary smooth modulation.

Waldorf PPG 3The up to eight parts can be arranged in poly, dual, quad and mono unison modes, with separate semitone adjustments for automatic chords or melodies. Thanks to the multimode with eight stereo outputs, the instrument is well suited for both studio environment or live on stage.

The Arpeggiator offers up and down modes, besides this an alternate mode and with "cascade mode" a true PPG specialty. For further refinement, several effects are available simultaneously, among these a 4-band equalizer, several overdrive modes, a phaser with up to 12 stages and a chorus with up to six taps. Flanger, stereo delay and reverb are also available.

The original PPG featured a unique user-interface, the "Analog Control Panel" offered direct access to many parameters, while digital menus were edited with somewhat cryptic acronyms that you had to look up in the manual in your lap.

PPG 3.v features the very same concept, with the slight enhancement of comprehensible parameter names and values. Almost all parameters can be subjected to host automation and convenient MIDI regulation by assigned control numbers. This makes it very easy to integrate PPG Wave 3.V into any existing production environment.
Waldorf PPG 3.V will be available middle of November for a MSRP of 169 EUR.
More information: Waldorf