Wave Alchmey has announced Ableton Live and Native Instruments Maschine support for its Transistor Revolution MKII drum machine sample library for Kontakt.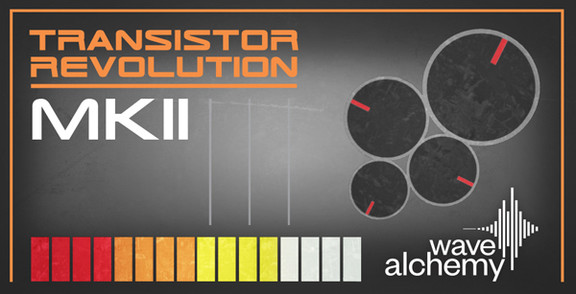 Our award-winning Transistor Revolution MKII for Kontakt now includes intuitive, custom built Ableton Live Drum Racks (Live 9) and NI Maschine formats as standard when you purchase the main Kontakt instrument.

All Transistor Revolution MKII customers get the new formats for free! We have re-activated all Transistor Revolution MKII downloads for 30 days, giving you plenty of time to log into your account and download.
Ableton Live Pack (compatible with version 9 and above)
3627 drum samples arranged and mapped in custom built, feature rich drum racks (1 drum rack for each drum machine sampled).
Kits for both 808 and 909.
22 'Drum Modules' which can be loaded separately into empty Drum Racks to create your own kits. Mix and match drum types to build your own analogue dream drum machine.
Each drum module includes 7 pre-assigned macros for quick, intuitive editing within each kit. Cycle through the different sound variations recorded from the selected drum machine. All variations and parameters of the original machines have been recorded, per drum voice; pitch/tune, decay and various other settings (depending on the drum machine).
Seamlessly scan through multi-sampled drum sounds with one-knob control over parameters such as Analog Tone, Analog Delay and Analog Snappy.
All patches work with Simpler (full Ableton Suite not required).
NI Maschine Pack (compatible with version 2.0 and above)
516 drum samples.
Full kits for both 808 and 909.
Carefully tagged kits for quick and easy loading from the Maschine Controller. Easily edit sampler voice settings including pitch/tune, filters, envelopes, LFO's and FX per sound via the Maschine controller.
Mix and match drum types to build your own analogue dream drum machine. Each kit includes pre-assigned sample parameters for quick, intuitive editing with the Macshine controller.
Transistor Revolution MKII is available for purchase for £84.95 GBP.
More information: Wave Alchemy / Transistor Revolution MKII