Plugin Boutique has introduced the new Drumvolution Kontakt Player drum instrument by Wave Alchemy with a 25% introductory discount.
Drumvolution comes with Wave Alchmeny's most visionary library of drum sounds and sound design tools ever created. It allows you to intuitively layer, dynamically browse and modulate each layer independently with powerful macro controls and modular step-lock parameter sequencing.
Drumvolution is a forward-thinking, truly modern Drum Engine powered by a ground-breaking library of 28,000+ electronic drums and sound design tools.
Drumvolution offers a slick design and unprecedented creative workflow. It delivers an intuitive Drum Layering Engine and Browser, X+Y Pad, extensive modular Macro System, Parameter-lock Effects, Polyrhythmic Sequencing, extensive sound design parameters, and over 400 beautifully designed presets.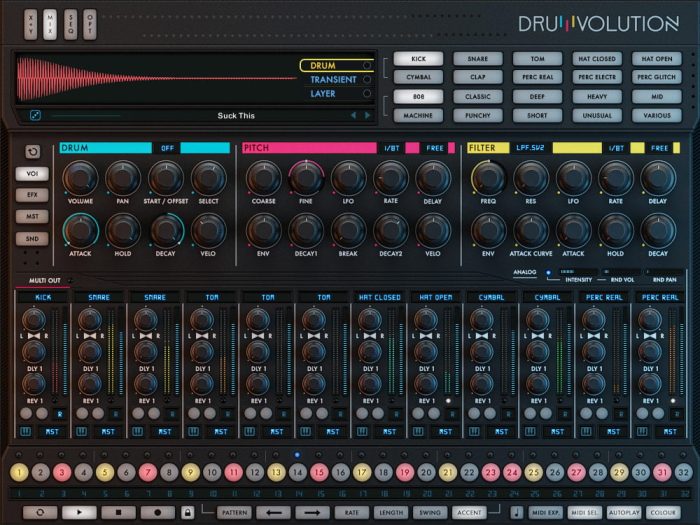 The focus of this drum instrument is not on emulation, but rather on creating new, visionary drum sounds that push the boundaries of what was previously possible.
Drumvolution features
Forward-thinking, truly modern Drum Engine powered by a ground-breaking library of electronic drums and sound design tools.
400+ beautifully crafted, forward-thinking presets covering all modern genres – designed by world-class sound designers.
3 Powerful Drum Layering Engines per Voice, each fully responsive.
4 Instruments – Clean, Tape 1, Tape 2, and Tape 3. The latter 3 delivering true analogue tape saturated versions of Drumvolution's powerful sound library, at varying saturation levels. Recorded to a vintage Studer A80 tape machine.
Blend, transform and morph between Layers using the impressive visual X+Y Pad screen.
Graphically dynamic sound browser and visual display.
Seamless integration with your DAW.
Extensive modular Macro System with 42 destinations.
Expressive 32-step multi-track Note Sequencer with individual Zoom lanes.
Polyrhythmic Sequencing capabilities for evolving and experimental patterns.
Modular step-lock Parameter / FX Sequencing, per Voice.
Ableton Live & Push integration.
Dynamic Analog Simulation control – Faithfully simulate the random behavior and character inherent of analogue equipment. Available, per Layer, per Voice.
Play and sequence any sound over a 4-octave range of pitch to create musical percussive rhythms, 808 sub bass-lines or anything in-between….
MIDI drag and drop patterns directly to your DAW.
World class effects and 190 high-end custom reverb impulses recorded from sough-after gear.
Breath-taking suite of high quality filters, EQs and transient shapers – each available independently, per Drum Voice, with dynamic routing.
Individual Drum Accent and Global Accent per step.
Timing slop per Sequence Step – Apply subtle (or intense) random timing to your drum groove.
Host Sync play and on-screen transport control.
Multi Output support.
Realistic, stunning, and dynamic 3D GUI.
Host automation support for all of Drumvolution's Macros.
MIDI CC control over important parameters.
Advanced key commands and time-saving editing shortcuts.
NKS Ready – Total integration with Komplete S-Series keyboards and Maschine Hardware.
Dedicated 12-track Mixer with individual processing and dynamics, volume control, pan and effects sends for each Drum Voice.
Master processing module featuring high-end compression, master EQ and tape simulation.
DAW presets for Ableton Live.
Drumvolution for Kontakt and the free Kontakt Player is on sale for £112.46 GBP until January 26th, 2019 (regular £149.95 GBP).
More information: Wave Alchemy