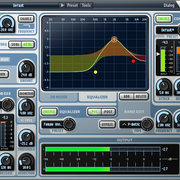 Wave Arts has announced the release of Dialog, an effect plug-in which combines all the processing needed to clean up, adjust, and sweeten recordings of the spoken voice.
It is perfect for voice-over, film/tv recordings on location or sound stage, and broadcast.

Dialog includes brickwall filters, de-hum and de-buzz processing, broadband noise reduction, de-ploding, de-essing, 10-band equalization, compression, and limiting. Separate presets for each section allow you to get results fast.
Dialog features
10-band EQ section with 11 different filter types and 64-bit processing.
Low and high pass brickwall filters with various rolloff slopes.
Hum and buzz removal.
Broadband noise reduction.
De-plode function for plosive or wind rumble attenuation.
De-ess function for sibilant attenuation.
Compressor.
Peak limiter.
Comprehensive metering.
Master preset manager and preset manager per section.
Latency compensation.
Fully automatable.
Up to 192K support.
Mono or stereo.
Dialog for Windows and Mac (VST/DX/RTAS/AU/MAS) is available to purchase for $249.95 USD.