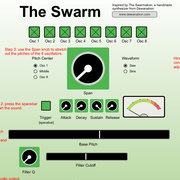 reFuse Software has released version 0.3.1 of The Swarm, a free drone synthesizer inspired by The Swarmatron.
Since the initial release of The Swarm, just five days ago, we've seen an extremely positive user response. For an obscure type of synth, not playable by traditional (keyboard-controlled) means, the number of downloads has been surprisingly high. And those download numbers have only come from OS X users… until now!

We are pleased to announce the immediate availability of The Swarm for Windows.
Changes in The Swarm v0.3.1
Fixed a glitch with the MIDI mapping for the fine control of the Span.
Fixed window size and layout to allow use on smaller laptop screens [v0.3]
Added Pitch Center control [v0.3]
Added Waveform control [v0.3]
Added all-on/all-off oscillator switching (by Shift-clicking) [v0.3]
Improved preset system [v0.3]
Fixed oscillator initializer routine at startup [v0.2]
Added Hints [v0.2]
Added pitch wheel control, mappable to Base Pitch or Span [v0.2]
The Swarm is now available as a freeware application for Mac and Windows.
More information: reFuse Software / The Swarm