Wavelet Audio focus on the creation of deeply sampled Kontakt instruments with a touch of cinematic ambience and they arrive at Time+Space with two distinct instruments and introductory offers.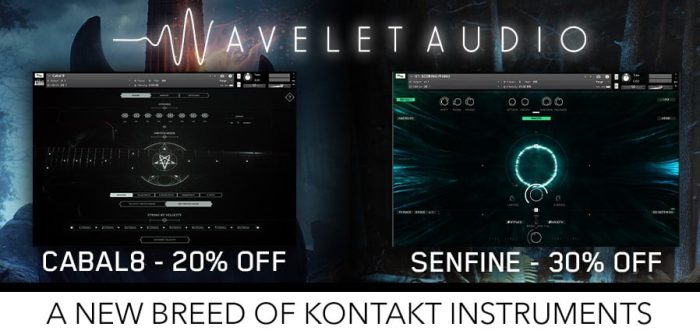 Wavelet Audio are a production studio run by musicians, software developers, producers and sound designers and they are always looking to develop unique software that stands out from the rest and we are excited to showcase them on Time+Space.

To celebrate their arrival we are offering special introductory discounts – save an impressive 30% on Senfine, or get 20% off Cabal 8 and Cabal 8 Elements until 21st October!
CABAL 8 is an 8 string guitar instrument with some truly unique features that make it one of the most flexible guitar Kontakt titles available today.
Create powerful and natural eight-string guitar parts that imitate actual guitar playing – Cabal 8 is convenient for writing extremely detailed MIDI parts, as well as for quick sketches in real time. This guitar plugin is suitable for work in various styles – rock, metal as well as cinematic or trailer music.
Cabal 8 also includes Cabal 8 Elements (also available to buy separately) which offers a pre-processed and more instant guitar solution.
SENFINE is a handmade extensive toolkit that features a collection of truly atmospheric and emotive sounds and is ideal for cinematic ambient and post-rock.
At the same time, it perfectly fits any kind of deep emotional atmospheric projects in a wide variety of genres. From guitars and orchestral ambient instruments to drums and synths, the palette of Senfine's ready to use instruments and inspiring workflow allows you to get the desired result quickly and easily right from scratch.
More information: Time+Space