Waves Audio has launched a new channel strip effect plugin designed with Grammy-winning mix engineer Andrew Scheps (Adele, Metallica, Red Hot Chili Peppers, Jay Z).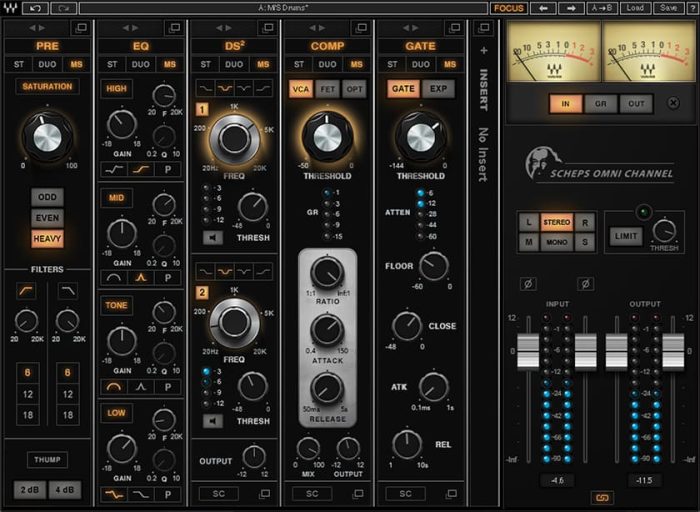 The Scheps Omni Channel delivers Andrew's his time-tested combinations of compression, EQ, saturation colors and more, all crafted to work together beautifully and cohesively.
Channel strips are the mixing world's most efficient tools, providing all your basic processing – EQ, compression, gating, and often more – in one modular, easy-to-manage unit.

Mixers choosing which channel strip to work with often face a dilemma, however: Channel strip plugins based on vintage mixing consoles can sound amazing, but tend to tie you down to a very specific and limited sonic color. Modular channel strip plugins let you mix and match diverse processors with flexibility, but the different processors might not work together cohesively and won't necessarily interact as a true channel strip.

Scheps Omni Channel gives you the best of both worlds. Through years of mixing diverse music genres, Andrew Scheps has perfected certain combinations of go-to processors – some based on classic hardware units, some being innovative modules developed from scratch – each with its own unique character. They are all now provided to you in one flexible yet fully cohesive channel strip plugin.
Scheps Omni Channel features
Designed with Grammy-winning mixer Andrew Scheps (Adele, Jay Z, Metallica, Red Hot Chili Peppers).
Flexible channel strip plugin based on Andrew's tried and tested processing combinations.
Pre, compression, EQ and gating modules, each with diverse options for sonic flexibility.
DS² module: so much more than a de-esser, with 2 full-range bands and 4 filter types.
Insert slot: Load an extra Waves plugin anywhere in the channel strip.
Drag and drop any module anywhere in the channel strip.
Internal MS/Duo/Stereo routing per module.
Stereo component provides full discrete control over each channel.
Flexible shaping of internal or external sidechain input.
Zero latency.
'Focus' presets designed by Andrew to focus you on what's important.
Artist presets by Tony Visconti, Billy Bush, Ken 'Pooch' Van Druten & more.
Scheps Omni Channel is on sale for $49 USD for a limited time (regular $149 USD).
More information: Waves Audio