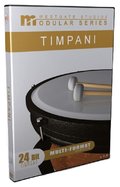 Westgate Studios has released Timpani, a multi-format sample library for Gigastudio 3.1 and Kontakt 2.1.
The programming features 3 mallet choices, left and right hand samples and 8 velocity levels from ppp-fff. Check here for a full list of included samples.
Timpani is available on DVD (includes versions for both Kontakt 2 and Gigastudio 3) for $ 110 USD, which includes all the samples, and a download version for $70 USD which includes only the medium mallet samples. (The download version can be upgraded to the full DVD version for $40 USD).
Visit Westgate Studios for more information.