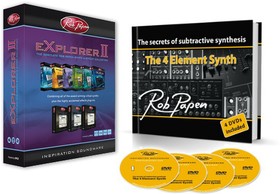 Gobbler has announced another Gobbler's Favorite Things contest, offering a chance to win various Rob Papen products.
Rob Papen is the master of sound design. He's put out a ton of plug-ins that are not only extraordinarily powerful but also contain extremely versatile User Interfaces, which is quite the challenge in the music technology world.

This week we're giving away not one, but two copies of Rob Papen's eXplorer II bundle containing almost all of his prized plug-ins as well as 2 copies of Rob's new book titled The Secrets of Subtractive Synthesis: The 4 Element Synth. We've read the book at Gobbler HQ and with 10 hours of DVD footage, it's sure to keep you busy as you dig deeper into this master's insight into the world of subtractive synthesis!
The contest ends 3 March, 2013, 11:59:59PM PST.
More information: Gobbler